The prison warden might have committed suicide!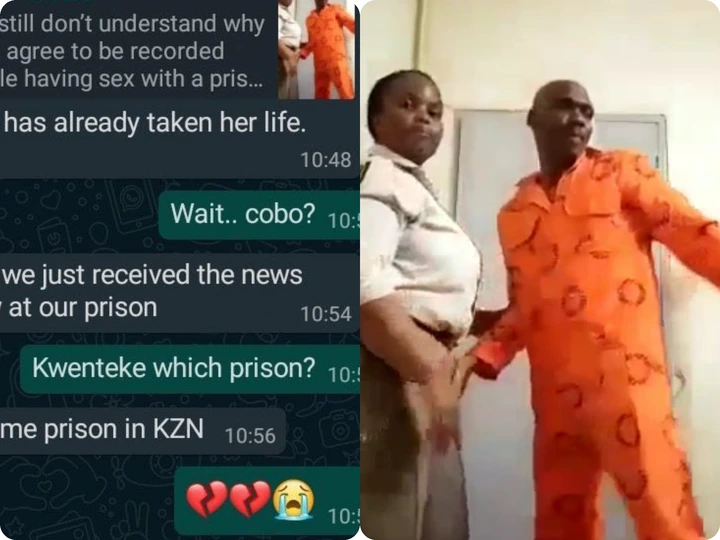 Rumour has that the female prison warden might have killed herself. A whatsapp conversation between two people shows that the warder might've committed suicide. This picture below shows a conversation between two people who been talking about the issue of the warder killing herself.
The prison warder was involved in viral s.e.x video that went viral. Apparently they are a married couple – Photos
Prison warder and inmate involved in viral s.e.x video are allegedly a married couple
The news broke early in the morning today. A sex tape involving an inmate and a female prison warder was Trending on social media, especially on twitter and Facebook. The time it reached black twitter everything was dug up by the so-called "black twitter" detectives. They say pictures, videos and comments have been shared on the streets and aslo on social media.
There's a trending #Hashtag on twitter called #Prisoner. The hashtag that is being used on twitter to exchange information about that sex tape. People are dropping different thoughts and views about this circulating clip. It said that the Female prison warden and also the prisoner are husband and wife.
The couple is to be convicted, and they haven't divorced yet. The department of correctional services has already launched an investigation regarding this video of a prison warder having sex with an inmate. This whole thing tokk place at the Ncome Correctional Centreb in KZN.
These are the actual pictures of the video that was circulating on Facebook and other media platforms. This picture shows the warder wearing her uniform, and also the inmate wearing a prison uniform. If you're wondering on how the video was taken, you don't need to wonder anymore. The video was taken by the spectator.
The video has now made its way to the public domain and it continues to spread, landing the official in hot water. The authorities have advised the public to stop sharing the video, reason being that the matter should be dealt with internally.