Entertainment
South Africa
SAPS called after whites tried to chase away blacks in a beach, swimming together. Video went viral
KE SHARP at it again, after sharing a video that left a lot of people not happy after what they saw. It has been circulating on social media and people want to comprehend what is really going on here. The Police were called to maintain the situation and calm people down.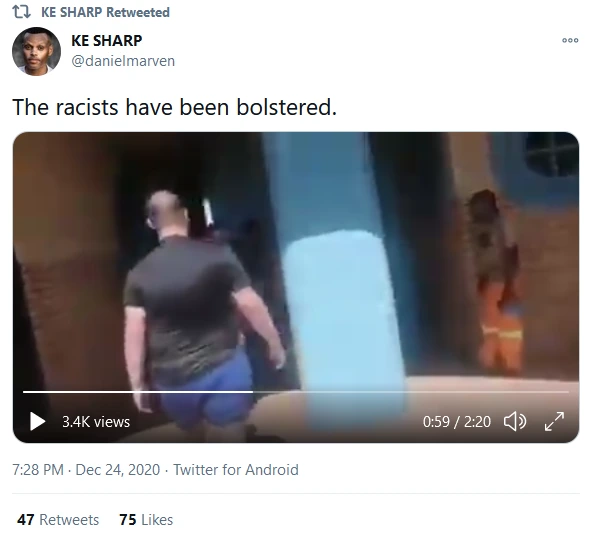 Screenshot cred: Twitter.
2020 is getting tougher as it goes to an end. A lot is happening in South Africa and world wide. Not only are we fighting the Covid-19 pandemic, but there are other pandemics such as racism at its peak and needs to be attended urgently
. 
Racism is prejudice, discrimination, or antagonism by an individual, community, or institution against a person or people on the basis of their membership of a particular racial or ethnic group, typically one that is a minority or marginalized.
Racism is a global issue, not only in South Africa do we experience it. In Europe it is worse, because there are more whites compared to blacks. Here in Africa is the opposite, thus black people are less more advantageous compared to those based in other continents. 
It is a matter that has been going on for years, it does not seem to slow down, despite transformation and living in a democratic environment. Racism is sensitive, those who are found to be racists, can face serious charges and be fined severely.
Most people are still surprised to see the level of racism South Africans are still subjected to. People face racism in all parts of their lives. At work, school and public places. This is uncalled for and needs to be rectified. Everyone should be living freely and accepted for who they are.
The lowest thing a human being can do is to be racist. People are treated differently, because of the color of their skin and hair texture. We are all human beings and skin color and hair color and texture should not let people feel superior to others.
In this video, a lot is going on. It is alleged that the SAPS members were called quickly to maintain the situation, as the tension grew between black and white people, who were enjoying their swimming outings. They did not last long, and the feud occurred, as white people want to have the entire place to themselves and disperse black people.
This did not go down well, as people paid to come to this place and they did not comprehend why they should leave the place. Racism in its severe form has been practiced here. Watching the video one can see that there is a huge tension between the two races and they are throwing words and shouting at each other.
When the Police arrived, they quickly packed their belongings and ran to the cars. They know that they are guilty and do not want to be held accountable for what they have done. This is irking, to see that racism is still perpetuating in South Africa in this time of transformation. 
People are not delighted after seeing this video and they demand more answers. Tel us your thoughts on this.