Entertainment
Remember what this man did to South African girls, Check out what he has been up to lately
Surely money is the root of all evil, remember what Ronald did to this girls just because he's loaded.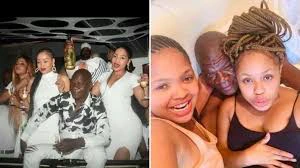 Lately you would think Uncle Ronald the blesser is just quiet and living a normal life,well he has stopped his things.Uncle Ronald is known for using most of these young girls by buying them expensive drinks and outfits.
But you know it doesn't end just like that,most of the girls were left pregnant as he impregnated 72 girls just in South Africa.
Surely people think Ronald is laying low buy well,he is still doing his way by using these young girls.These young girls fall for him since he's loaded and can bless them with whatever they want,expensive phones,clothes and all the other staff.
What do you think might have been the reason for these girls to fall for Ronald???Is it a goof thing for him to use these young girls like this or they deserve it as they are desperate for money???