Entertainment
Check Out Celebrities Who Were Affected By Or Living With HIV
Being a celebrity comes with it's own perks; however at times it becomes challenging and demanding. Living with the HIV virus as a celebrity is not easy. Many refrain from revealing their positive status, due to fear of being judged, victimised and maltreated. Accepting and living with the HIV virus takes bravery and courage. It is like taking a bull by its horn, straight head on.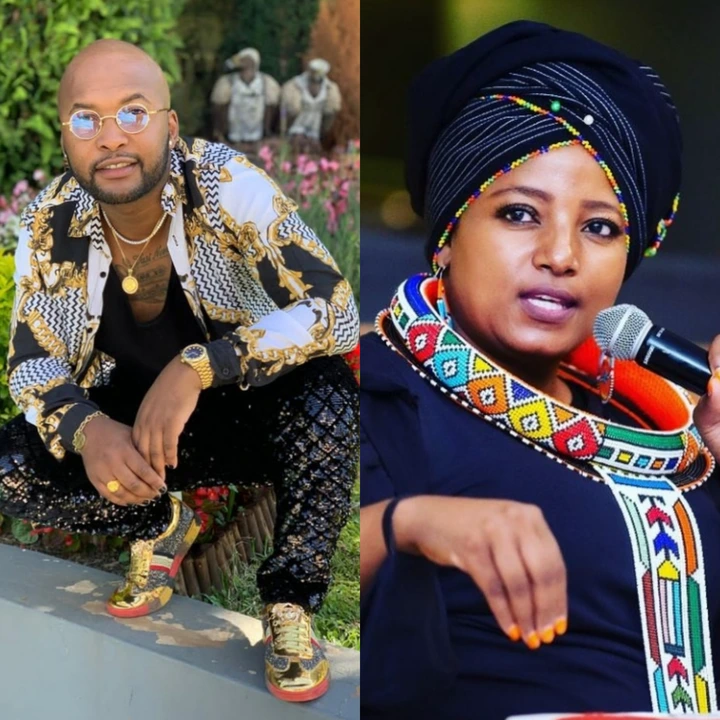 The Stigma with these virus is that, many people still think one gets infected by sleeping around; of which its definitely incorrect. There are vast ways to contract the virus, which includes and not limited to doctors' malpractice, for some they are born with it and for others it's a matter of inescapable circumstances.
Many celebrities and highly ranked officials are living with the virus, for some it remains a secret and for some they disclose and even talk about it in public. At the end of the day, it's your decision; to decide to disclose or not; no pressure.
Here are famous South African faces that used their celebrity and HIV status to advocate for compassion and awareness around HIV:
1. Criselda Dudumashe Kananda
Social activist, TV and radio presenter, and motivational speaker have been living with the virus for more than 22 years. Throughout all these years she was not taking any Antiretroviral drugs (ARVs) for treating HIV; but depending on living a healthy lifestyle, and again her CD4 count was not below 250.
She has also been lucky in love, having been married in 2015 to a successful businessman Siyolo Dudumashe whom she adores after walking out from an abusive relationship. She has proved to the country and entire world that contracting HIV is not the end of a productive life. She is also a mother of three.
After 22 years of living healthily with HIV, radio personality Criselda Kananda has started a course of antiretroviral medication (ARVs). This comes after she visited the Netcare Waterfall Hospital in Midrand, because she was not feeling well. Her body was finally giving in after all these years. Her immune system needed a super charge.
"I'm out of danger SARS-Covid-free (negative) but the HIV in my body is having a live concert. This means I have to start ARVs after 22 years of living healthy with HIV. My immune system now needs help."said the Meteo FM radio presenter.
2. Musa "Queen" Njoko
The popular Gospel artist, who was 22 when she was diagnosed, went public about her HIV-positive status in 1995 – at a time when treatment was not available in South Africa. She faced a lot of stigma and hostility but also found support to live a long and healthy life in spite of the disease.
3. Thabang Sefatsa
The former footballer, who represented Roses United, came out with his 'secret' in 2016. He was diagnosed with the virus in 2013 and having been living with it for the past 7 (seven) years now.
According to Thabang, he decided to disclose his status because he wanted to encourage other footballers to come out and do the same. He claims that he knows alot of players who are walking around with the virus. He was speaking at an event for AIDS awareness in Pretoria in 2016.
4. Gary Allpass
The 55 year old horse riding instructor tested positive for the virus in 1992. In a world that many think that HIV is for the black population, Gary stood up and disclosed his status with no fear on being silenced. This definitely shows that the virus knows no one and no boundaries. With no doubt it does not look at the colour on your face. Anyone and everyone is at risk.
Gary have been living with the virus for more than 29 years and us still going and doing strong like never before. He advise people to seek for help and comfort within their circle of friends and families.
He said, "I have done better than many able-bodied people. My advice to HIV positive people is to come to terms with what is wrong and go for counselling. Speak to a family member or trusted friend about your situation. If you bottle it up, you will die."
Allpass explains he was given six months to live when doctors diagnosed him with the virus.
Now we are going to take a twist and talk about something slightly different. Below we will talk about celebrities who were 'affected' by the HIV virus. Please remember affected and not infected. With no further ado, lets begin.
1. Vusi Nova
Vusi is a Popular musician and a friend to Idols SA judge Somizi Mhlongo; His mom died of HIV. The losing of his parents got him devastated and he resorted to the life of drugs at a tender age. However his biggest blow was his mother's death due to HIV; he was embarrassed to disclose as to how his mom died.
"At some point I used to lie to people and say my mother died of cancer because I was afraid to say my mother had HIV," he told the local publication. "I was too scared to say I once took drugs to numb pain." Vusi Nova told Drum magazine in a 2016 interview.
2. Nokuthula Lwedaba
The former Rhythm City, Abomama, The River and Scandal actress revealed her mother died from the condition in 2005 while awaiting ARVs the health department had run out of at the time.
Despite the stigma that the HIV name holds, one can still continue to live a normal life after being infected or affected. Many continue to have families and live like it doesn't exist.
In South Africa, some of our very own celebrities are living with the virus and have come out to defy stereotypes. Many more others are still hiding and having the fear to disclose as it comes with discrimination of his kind.
Some see the HIV virus as a death sence, it all depends on how you see it and live your life after contracting it. This only means that the lifestyle must change to assist the immune system in fighting the virus. Most health professionals will advise you the following after finding out that your positive;
– Seek counseling first
– Inform your partner if you have one
– Eat Healthy
– Exercise
– Abstain or condomise.
– Take the ARVs
Do you think more celebrities must come out and disclose their status to raise awareness?
What are your thoughts and take on the HIV/AIDS pandemic that have been terrorising the world for all these years, do you think there is ever hope of finding a cure to the virus; or it's a matter of accepting and leaving with it ? Whatever opinion and theories you have, kindly share with us.
From the entire News Ample team, we would like to extend our heartfelt sympathy and condolences to all families, friends and colleagues who lost their loved ones due to HIV/AIDS. Our thoughts go out to them.